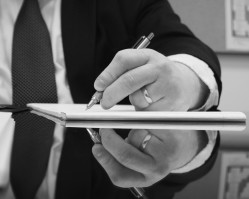 Family Law Firm in Bellefonte, PA
Attorney Justin P. Miller holds a concentration in Family Law from the Michigan State University College of Law.
His practice includes adoption, divorce, child custody, child support, spousal support, grandparents rights, and LGBTQ/gay and lesbian issues.
Attorney Miller brings a refined, mature sensibility to all family law matters. He started his legal career by serving two years as a Judicial Law Clerk, giving him a ringside seat to watch some of the best – and worst – family lawyers conduct themselves before the courts. In these cases, he observed that the blustery, in-your-face attorneys put on a more entertaining show, but the methodical, well-prepared, and unflappable attorneys were the ones who consistently achieved better results for their clients. Consequently, Attorney Miller has cultivated this approach to family law matters. Additionally, he honed his courtroom and negotiating skills as a criminal defense attorney, going up against some of the toughest prosecutors around.
If you're looking for an "attack dog" or a "pitt bull" who will make your partner suffer, look elsewhere. Attorney Miller provides grown-up representation for grown-ups who realize just how serious these matters are and who want an attorney who understands this, too.
Flexible Scheduling for Difficult Cases
Divorce and other family law issues represent an interruption in routine. We realize it isn't always easy to find time to meet with an attorney while meeting the day-to-day obligations in your life. For this reason, we provide flexible hours and evening and weekend appointments for family law clients.
Contact the Law Office of Justin P. Miller today for an affordable, no-obligation consultation on your case. 814.359.7529.